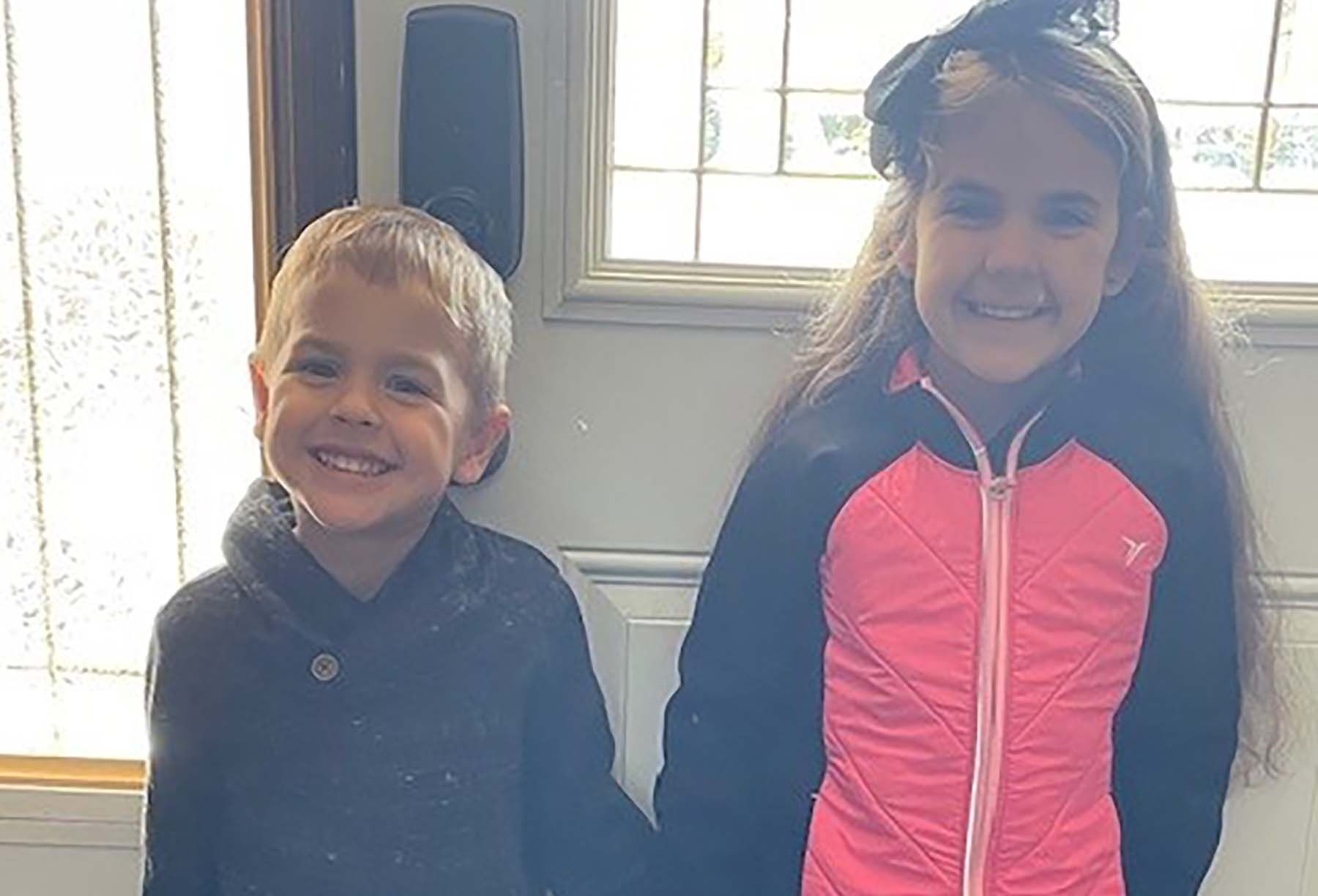 When Stephanie Rutherford's four-year-old son Remy began to show signs that he was getting sick, she would have never imagined that more than two weeks later they'd be laying in a hospital bed in Kingston more than 400 kilometers from home.
But her family's story is becoming more common, and they are now one of more than 25 families that have been transferred to Kingston Health Sciences Centre (KHSC) as the hospital steps up to support the provincial effort to care for record numbers of sick children arriving to hospitals across Ontario. In an effort to support the ongoing provincial surge, KHSC's Pediatric Critical Care unit is operating at 200 per cent capacity while the inpatient pediatric unit has been expanded to operate at 150 per cent capacity.
It started as a low-grade fever
It was November 15 and Remy, usually a healthy and playful child, first developed a fever in the family's hometown of Simcoe Ontario. Soon after, he stopped eating and vomited any time his mom Stephanie tried to give him liquids.
"I was starting to really worry about dehydration, since he couldn't keep anything down. I also couldn't find any children's Tylenol to bring down the fever and control pain," says Rutherford. "So, I took him to my local hospital, they were able to give him some acetaminophen and he perked up and we went back home."
But little did the family know, that was just the beginning of their son's healthcare journey. One that would span the province.
"His symptoms quickly got much worse, he was so lethargic he couldn't walk or feed himself, he had a bad headache and was in a lot of pain, so I called the ambulance to get him back to the hospital. When we arrived, they immediately knew something was wrong and that he had to be transferred to a pediatric hospital.
First, they tried to send us to Hamilton, which I thought was good, they have a good children's hospital. But then they told us Hamilton was full, you're going to London instead. Then I thought, wow I didn't know London had a children's hospital. Then we found out London was full too, so they said they were sending us to Kingston. At that point I didn't know what to think anymore."
'I didn't even know Ornge had an airplane'
A few hours later Rutherford, her husband Adam, and Remy were loaded on an Ornge airplane destined for Kingston. All in all, their journey would last 12 hours and include three ambulance rides and the private plane loaded with medical equipment and paramedics.
"I'll never forget the two paramedics on the plane, Darrin and Mary, they were incredible. Next thing I know we're arriving at KGH and are rushed right up to the Pediatric floor. Everyone was gowned up and ready to meet him when we were rushed in. There were four paramedics, three doctors and three nurses in the room at first."
Little Remy had some surprises in store for his parents and his medical team. He wasn't sick with a respiratory illness like Influenza or RSV which are infecting so many other children and filling up hospitals this autumn. Instead, he was diagnosed with Strep A, which caused a domino effect, he became septic, then was diagnosed with childhood Hemophagocytic lymphohistiocytosis also known as HLH, which is a rare but potentially fatal condition in which certain white blood cells build up in and damage organs, including the bone marrow, liver, and spleen, and destroy other blood cells. Remy has also been subsequently diagnosed with Disseminated Intravascular Coagulation (DIC) which is a serious condition that causes abnormal blood clotting throughout the body's blood vessels.
"He was swollen from head to toe and his body was covered in blisters that looked like third degree burns. We have to do an MRI too to make sure the blisters didn't develop on his brain. He still can't use his left hand because the swelling was so bad, and he was on a ventilator for almost a week."
After eight days in KHSC's Pediatric Critical Care Unit, which is just one of five such units in all of Ontario, Remy started to make incredible improvements. He has since been transferred to the general inpatient pediatric unit.
"He has really been a trooper, but it must be so hard to experience something like that as a kid."
'The care in Kingston has been amazing'
Despite being so far from home, Rutherford says the experience with KHSC has been second-to-none.
"The nurses here have been incredible, everyone from the medical teams to the cleaning staff have been so kind. The social worker even set us up with a place to stay at Almost Home so my husband and I can take turns staying with (Remy) while the other sleeps. They really take care of the parents here too, helping us find something to eat, get a shower and find a toothbrush. On the first night when we arrived I was so overwhelmed, I remember one of the doctors hugged me when I started to cry.
"I'll remember some of the staff for the rest of my life, Buffy, Crystal, Montana and Chris the nursing student made such an impact. We've started to have some discussions about being transferred to a hospital closer to home now that he's doing a bit better, but I am hesitant to leave, the care here has been excellent."
But despite the excellent care the entire experience has been difficult.
'This could happen to anyone'
"We have a six-year-old daughter at home, and it sucks being so far away. She's staying with her grandparents, but I know she is struggling. This is the longest we have ever been away from her, but she knows that her brother is sick and we're trying to help him get better.
"I just want everyone to know, if your kids aren't sick or are older, how quickly this can happen. It was terrifying to hear from the doctors that he would have died if we didn't bring him to the hospital when we did.
"This sounds like something that would happen to someone else, like a friend of a friend, not something that would happen to you. I can see the helicopters landing outside of our window at the hospital and it makes me so sad for all those kids inside. This can happen to anyone."
But the family is staying positive and looking forward to being reunited with their daughter for the holidays. And when the children are busy opening their gifts this Christmas, it's safe to say the greatest gift that Stephanie and Adam will receive won't be found under their tree.
"I can't wait to get home and hug her and spoil them both this Christmas. We're not material people, but I'm telling everyone that I don't want any gifts this year, just please get stuff for the kids, they deserve it."
Gallery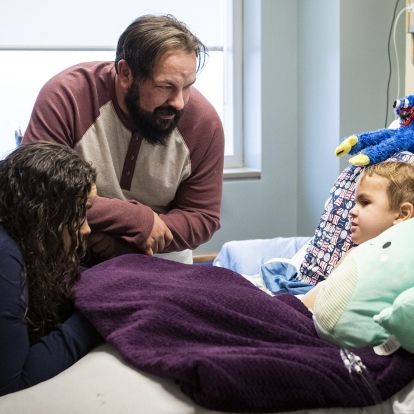 Stephanie, Adam and Remy Rutherford in their room on the Kidd 10 Pediatrics Unit at KHSC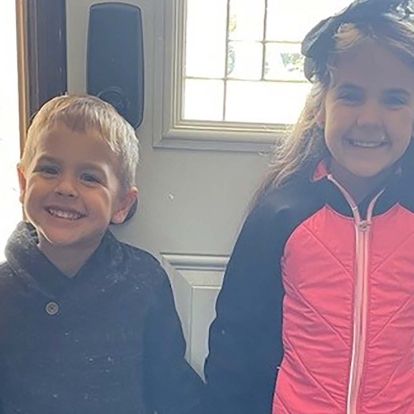 The Rutherford kids at home before Remy's hospitalization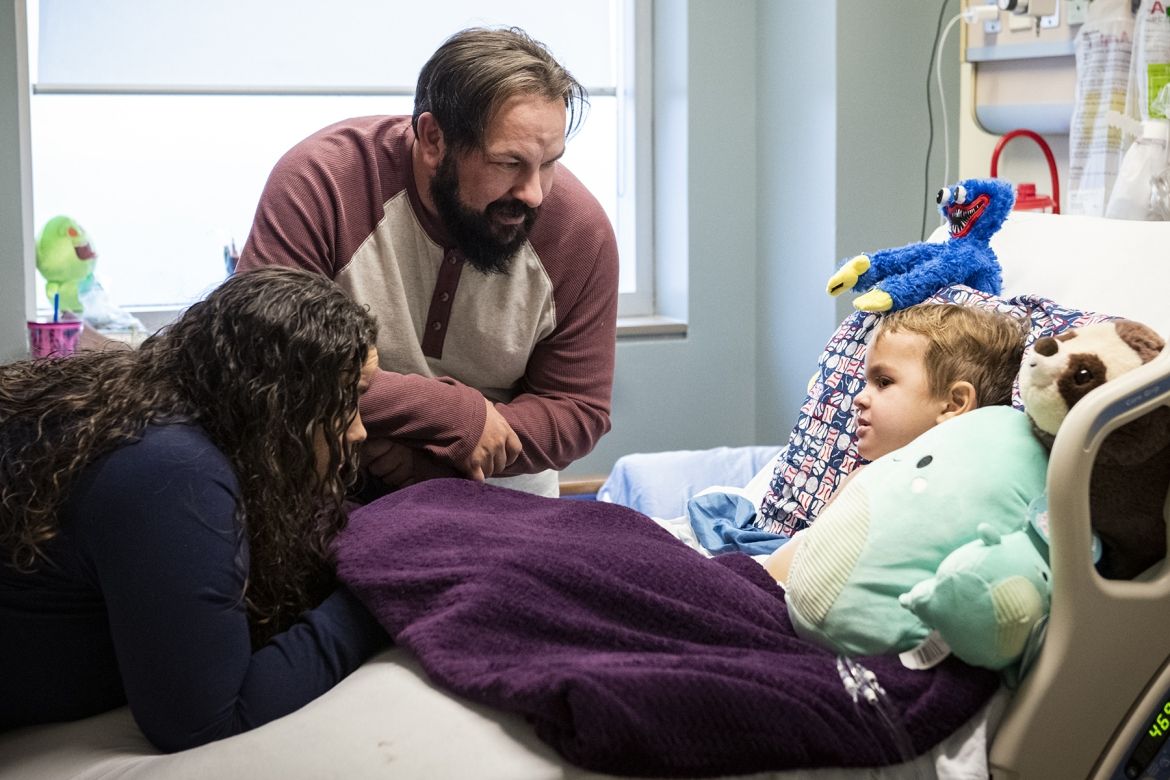 Stephanie, Adam and Remy Rutherford in their room on the Kidd 10 Pediatrics Unit at KHSC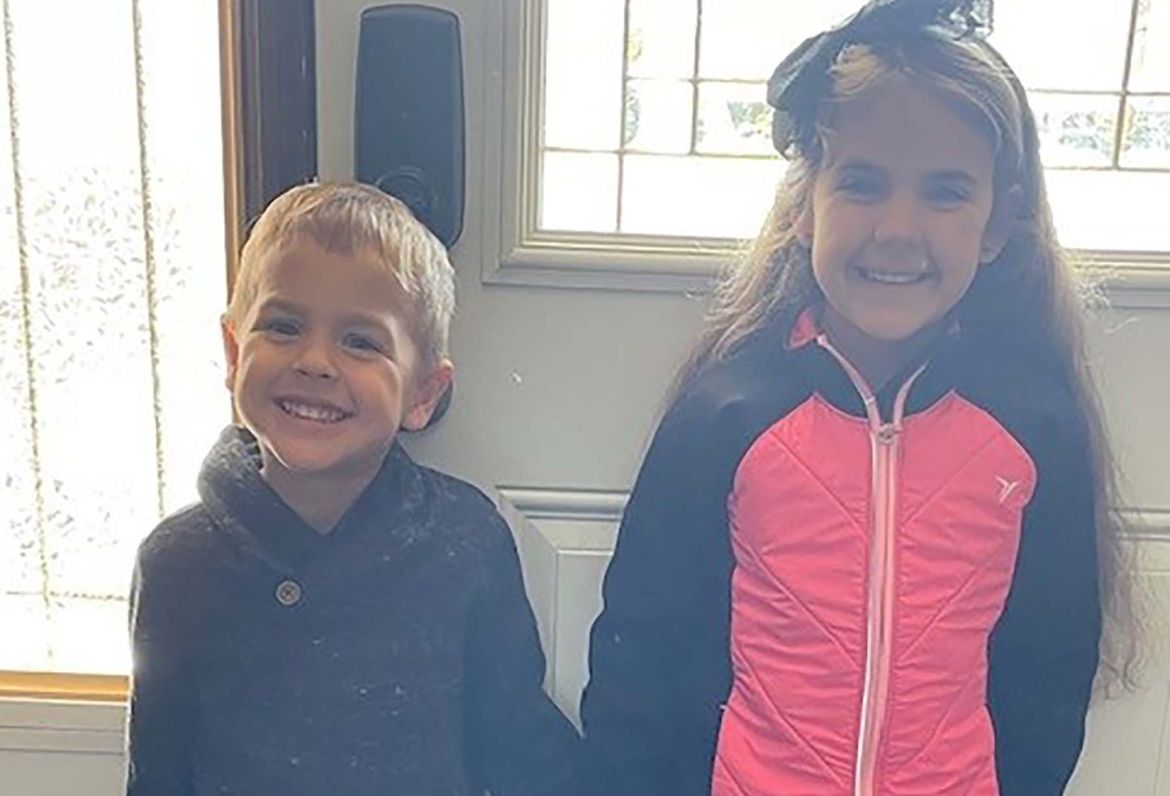 The Rutherford kids at home before Remy's hospitalization