Art work supports cultural safety and familiarity for patients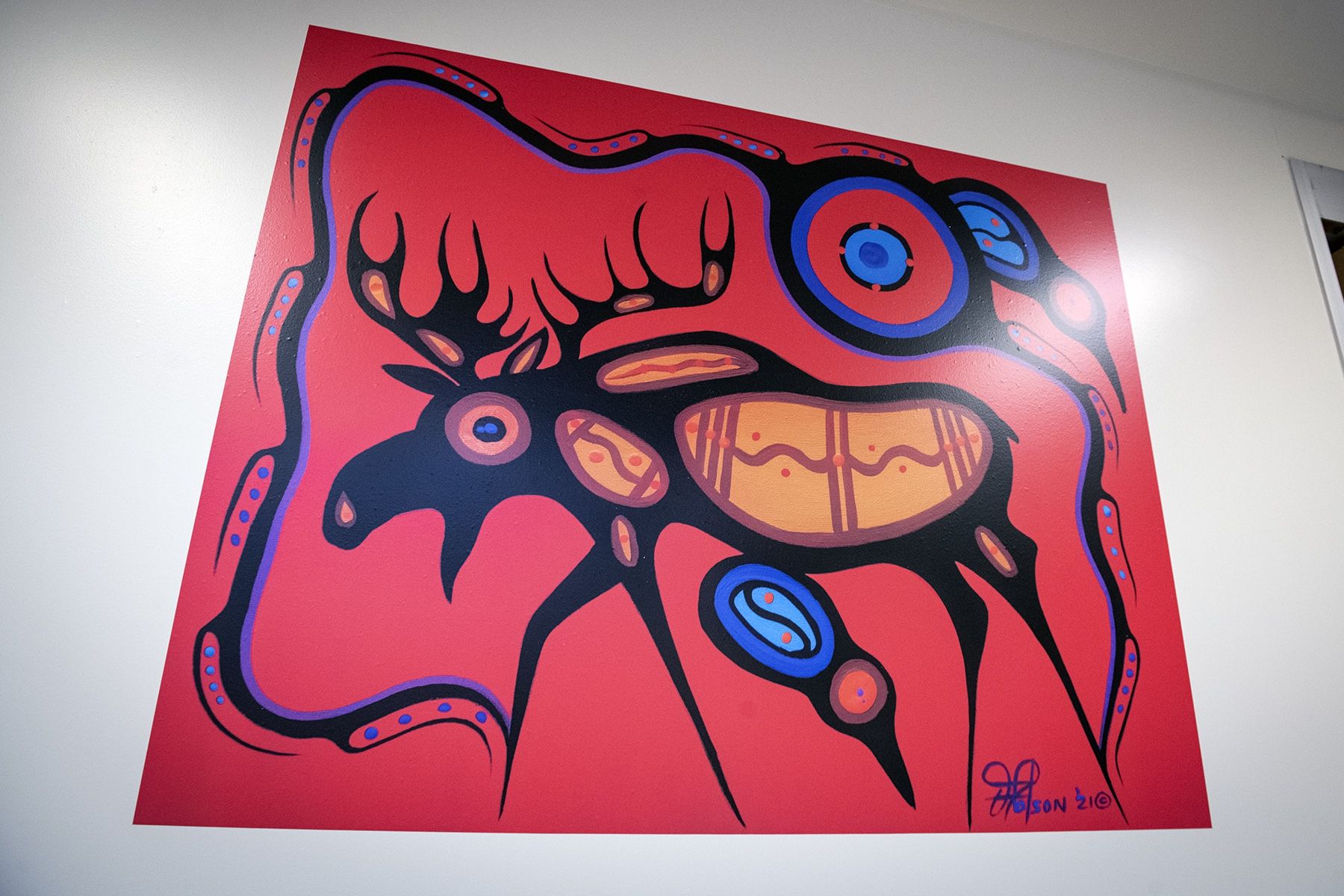 "I am happy to report that the artwork is finally up on the Burr 4 Mental Health & Addictions Unit and it looks fantastic," says Melanie Darling, Program Manager Child & Adolescent Inpatient Mental Health & Addiction Program. "The idea for the paintings began when Spiritual Health Practitioner James Graham raised the question about how we could make our spaces on Burr 4 more supportive for the Indigenous patients.
"In 2019 we held a talking circle and smudging ceremony with Indigenous community members to learn more about how Indigenous people interpret our space and start the conversation about what we could do differently.  In 2020, COVID-19 restrictions put everything on hold and all efforts were put into managing the pandemic."
Earlier this year Melanie happened to see Dionne in the hospital and discussed the artwork and some education for Burr 4 staff.
"There was some COVID-19 based funding for cancer programs that have an Indigenous Patient Navigator role," said Dionne Nolan, Indigenous Patient Navigator. "We were fortunate to be able to use some funding to purchase original prints from Algonquin First Nation Artist Frank Polson. The paintings create cultural safety and familiarity for patients. Patients feel comfortable to see their culture included."
In May, two pieces were installed beside the patient lounge areas in the Mental Health & Addictions Unit and both can be viewed from the Care station so staff are also able to enjoy it. Staff members have noted that the artwork is cheerful and bright and are hopeful that it is comforting to our patients.
"It has certainly been a conversation piece so far," said Melanie. "We also invited Dionne to present Why & How to be an Indigenous Ally, a virtual training session to staff members which was very well received by staff.
A future project that Melanie and Dionne are working on is to have alternative smudging kits (smoke free) such as Sage Tea available for patients on the unit to use.
Gallery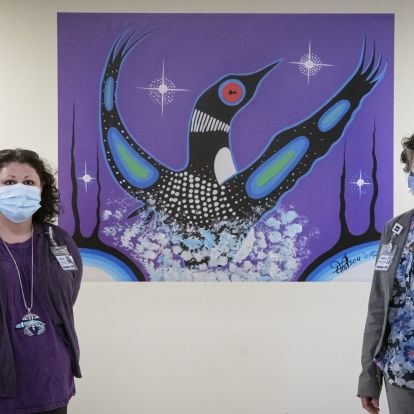 Indigenous Patient Navigator Dionne Nolan and Melanie Darling, Program Manager Child & Adolescent Inpatient Mental Health & Addiction Program are proud to share prints from Algonquin First Nation Artist Frank Polson on the Burr 4 Mental Health & Addiction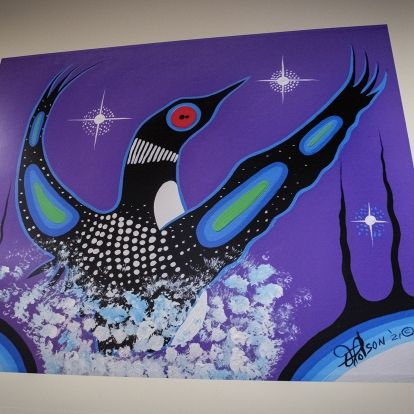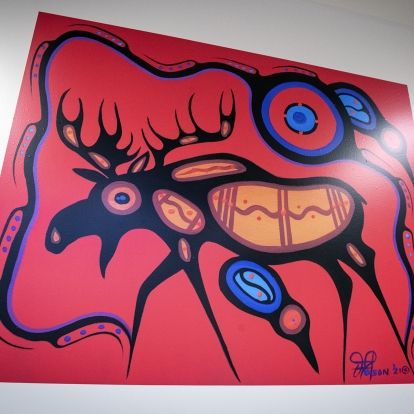 Indigenous Patient Navigator Dionne Nolan and Melanie Darling, Program Manager Child & Adolescent Inpatient Mental Health & Addiction Program are proud to share prints from Algonquin First Nation Artist Frank Polson on the Burr 4 Mental Health & Addiction