KHSC welcomes new Executive VP Patient Care & Chief Nursing Executive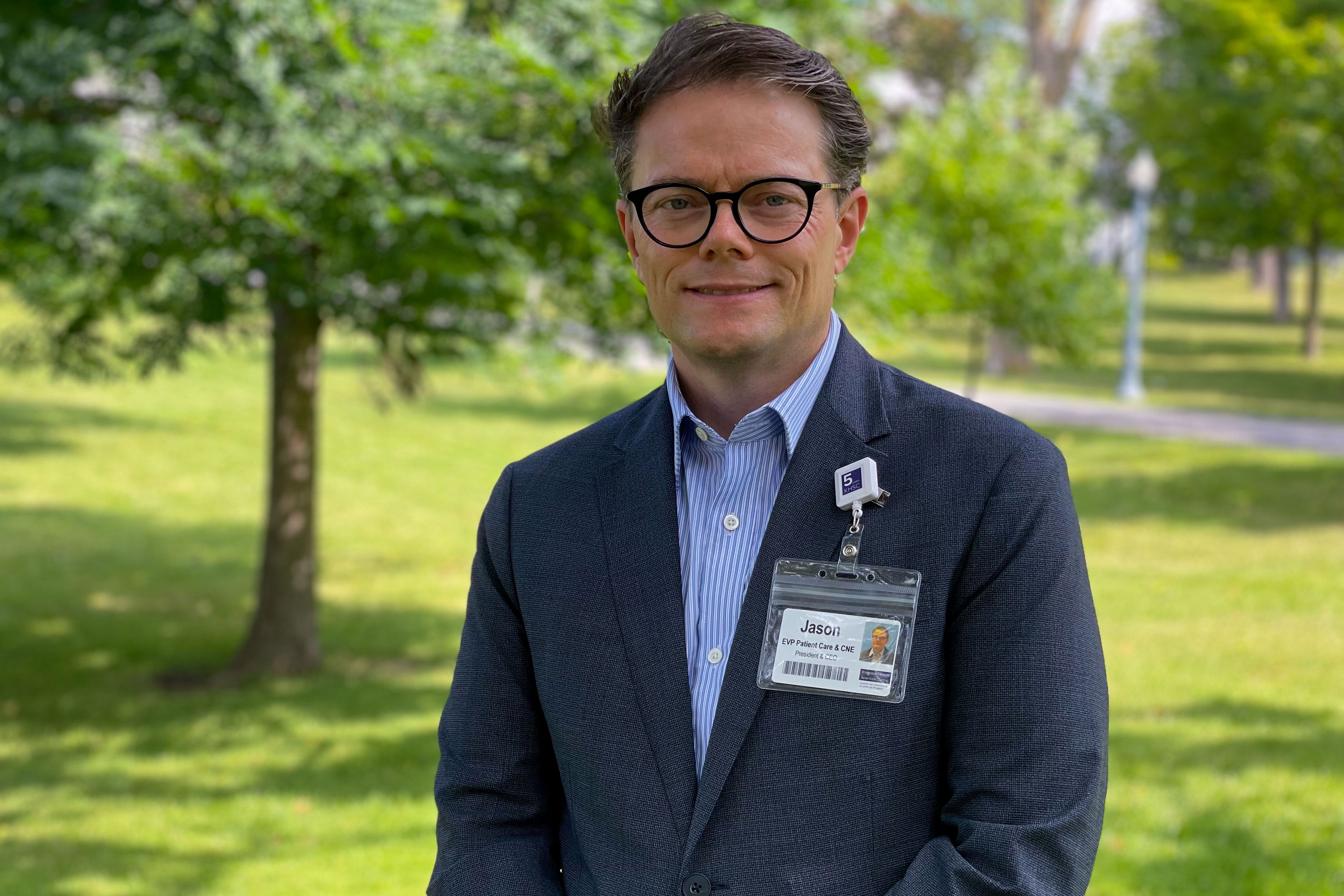 On July 25 Kingston Health Sciences Centre (KHSC) welcomed a new member to the senior leadership team as Jason Hann assumed the role of Executive VP Patient Care and Chief Nursing Executive.  Hann brings 20-plus years of experience in health care, more than half that time in progressive leadership roles (read more about his background here).  Just before he landed at KHSC, Hann sat down to talk further about career, leadership and the particular comfort of working in Kingston.
How did you did get started in health care?
I started my nursing career in Newfoundland and Labrador, where I was born and raised, and practiced mostly in the ED, ICU and medicine/surgery units. I also did lots of patient transport as a MedEvac escort, which was really exciting work.  In 1999 I moved to Ontario to work at the University of Ottawa Heart Institute in the cardiac surgical intensive care unit and transferred to the cardiac catheterization and electrophysiology lab six years later.  Working in the cardiac catheterization lab was an exciting time as we expanded our scope of procedures and built new catheterization and electrophysiology labs.  That's when I became the care facilitator, which was my first formal leadership role.
You also have a diploma in critical care nursing. Is that a particular passion?
While I loved practicing in critical care, as a hospital leader—as a manager, director and VP—I've worked purposefully to ensure I have broad clinical operational experience in surgical, ambulatory, inpatient (medicine, surgery, complex continuing care, women's health), emergency, pediatric and neonatal care.  I keep widening my perspective because I want to understand what quality care is from the vantage of front-line health care providers. It makes conversations with them easier—you don't know everything but you have a good understanding.  It also helps that I've supported various types of care across a range of settings, from a 1000-bed, multi-sited academic health sciences centre to a pediatric academic hospital to multi-sited community hospitals.
What are highlights of your health career to date?
It's difficult to pick just one thing because I've had so many great opportunities.  Every learning opportunity has been a highlight, and each has made me a better leader.  Learning, making a positive contribution and mentoring—both helping others grow and being on the receiving end of mentorship myself—all continue to be key areas of focus for me. 
What made you tackle an MBA at Queen's University?
Apart from being a parent, completing the MBA was one of most challenging, rewarding experiences in my life. I've been interested in business from a young age so the degree was a logical professional development opportunity for me.  I wanted to build skills in health care strategy from the angle of business and financial acumen, managing change, negotiations and conflict management.  It's a learning experience that really stretches you.  At Queen's I studied with engineers, entrepreneurs and CFOs, people with many different backgrounds who were also interested in my health care perspective.
Why did you want to join KHSC as EVP Patient Care and CNE?
I've always admired KHSC from afar. It's a great organization that impacts health services delivery at local, provincial, national and international levels with new models of care, research and innovation.  I'm very excited about this opportunity to be an active leader, partner, collaborator, and innovator in the transformation of improved quality outcomes for patients and our communities.
What impact do you think the pandemic had on leadership in health care?
COVID-19 is still a challenge for everyone, but I think it's making us all better leaders and more nimble in our decision-making. There has been more collaboration as different organizations played their part in ensuring critical care capacity or transporting patients or setting up community vaccine clinics and assessment centres. COVID-19 is really making us see health care as a system, and we're building positive working relationships that I think will benefit us beyond the pandemic.
What super powers are you bringing to your new role at KHSC? 
I'm a pragmatist. I like to focus on outcomes by relying on some key strengths—clinical competency, using data and evidence to drive results and a collaborative leadership style.  I'm also very approachable.  I'm interested in everyone's perspective and value building capacity within teams. I love seeing people do well in their health care careers.
How do you de-stress?
I spend time with my family—biking and downhill skiing with my wife and teenage son—and I also like to read. Right now, I'm working my way through Adam Grant's book Think Again, which is about the art of rethinking things and mental flexibility. And because I grew up near water in Newfoundland and Labrador, I find Kingston a very comforting place to be.
What will be your first priorities at KHSC?
I'm really looking forward to getting to know people and to start building relationships.  I want to learn more about the organization, discover where the opportunities lie and where I can make a positive contribution as we work together to provide the best care to patients and families and to build a culture where we recruit and retain the best people for KHSC.
Gallery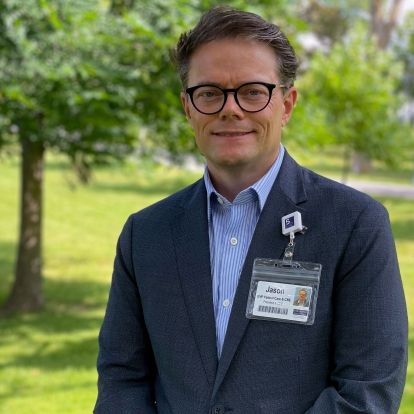 "I'm a pragmatist," says Jason Hann. "I like to focus on outcomes by relying on some key strengths—clinical competency, using data and evidence to drive results and a collaborative leadership style."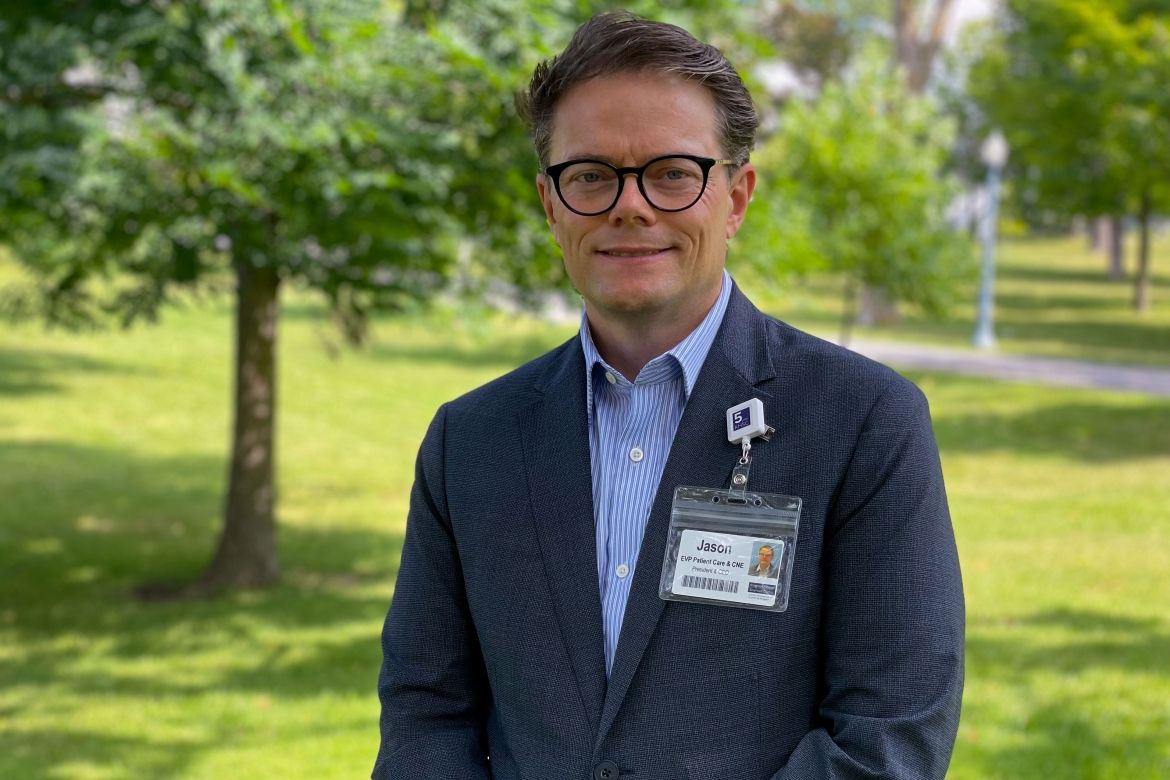 "I'm a pragmatist," says Jason Hann. "I like to focus on outcomes by relying on some key strengths—clinical competency, using data and evidence to drive results and a collaborative leadership style."