People of KHSC: Desirée vandenTillaart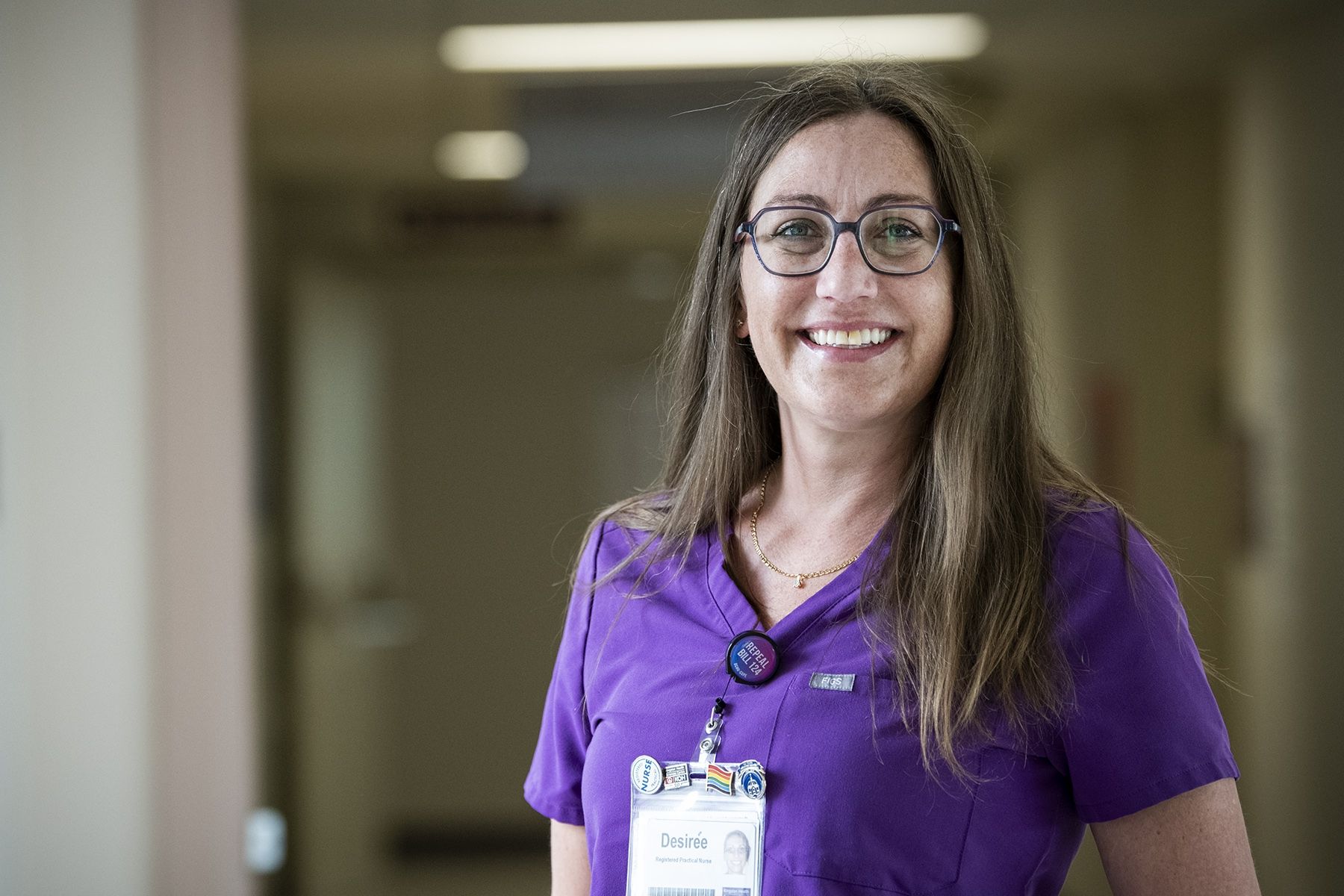 Credit
Matthew Manor/KHSC
If you ask Desirée vandenTillaart what inspired her to become a registered practical nurse (RPN) 18 years ago, she instantly lights up.
"My mom was my biggest inspiration," she beams. "She's the most amazing woman I know, and was an amazing nurse herself."
That's right, she followed in her mother Shirley Whelan's footsteps, who also worked at Kingston Health Sciences Centre (KHSC) for the majority of her 30 year career, and learned some valuable lessons.
"She taught me the importance of caring and having compassion for others who could not help themselves. Not only in the hospital, but also the neighbourhood too.
"We grew up always helping neighbours and friends who needed it. Even when we didn't have the financial means, we did our best to figure it out. I felt proud growing up knowing I could make a difference in others' lives, even if it was something small."
Well vandenTillaart is making a big impact at KHSC, especially with our Kingston Bariatric Centre of Excellence.
That's where she's based. In addition to being a highly skilled RPN, vandenTillaart's next level kindness and infectious smile is what she's known for.
"I'm extremely proud of the care and support our programs, both surgical and medical, are able to provide to a large surrounding area. We help identify and manage individuals who have chronic conditions of obesity.
"Patients coming for appointments can often feel nervous or scared, greeting everyone with a smile and kind words can make a world of difference. Kindness and positivity is part of who I am.
"Making sure patients are comfortable is also important to me, so I do nice things for them naturally because it brings a sense of comfort.
"Last year, I brought in the first Christmas tree my husband and I bought when we got married. It's very special to me, but I wanted to share it with our patients and coworkers. Seeing all the joy it brought, warmed my heart."
There's that compassion she learned. It's almost like every patient interaction vandenTillaart has, she's paying homage to the best nurse and woman she knows, her mom.
"I'm sure she didn't realize the impact she had on me. I'm raising my two girls to be kind, compassionate and caring just like she taught me. And hopefully, it sticks too."
And who knows, maybe vandenTillaart will inspire one of them to enter the nursing profession and the tradition of caring for others will continue.