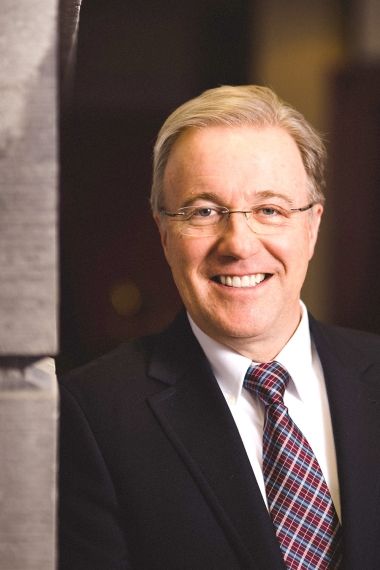 David R. Pichora
MD, FRCSC
613.549.6666 x 3395
Roles
Clinician-scientist, KGHRI

President & CEO, Kingston Health Sciences Centre

Professor of Surgery and Mechanical Engineering, Queen's University
Paul B. Helliwell Chair in Orthopaedic Research
Interests
Computer assisted surgery
Wrist and shoulder biomechanics
Kinematic studies of the rheumatoid wris
3D motion and imaging studies of the upper extremity
Clinical outcome studies in orthopaedic trauma
Bio
Dr. David Pichora completed his orthopedic surgery residency at Queen's University and clinical fellowships at the University of Toronto and University of Alabama, Birmingham. He is a Professor of Surgery and of Mechanical and Materials Engineering at Queen's University and has been on the medical staff at Hotel Dieu and Kingston General hospitals since 1986. He served from 1994-2008 as Divisional Chair of Orthopedic Surgery at Queen's University, Hotel Dieu Hospital site and Kingston General Hospital site. He is a founding member, a lead researcher and board member for the Human Mobility Research Centre (HMRC) at Queen's University, and past president of the Ontario Orthopaedic Association and the International Society for the Study of Computer Assisted Surgery.
In 2017 Dr. Pichora was appointed inaugural President and CEO of the Kingston Health Sciences Centre, which comprises Kingston General Hospital and Hotel Dieu Hospital. Previously he was Chief of Staff at Hotel Dieu Hospital, an academic ambulatory care hospital in Kingston, Ontario, from July 2004 through early 2009, when he was appointed Chief Executive Officer, a position he held until 2017. Under his leadership, Hotel Dieu Hospital implemented an innovative Total Joint Replacement Program in a short-stay unit; began a Bariatric Regional Assessment and Treatment Centre; introduced dermatology and Mohs microsurgery programs; and completed a major facilities upgrade. Dr. Pichora co-chairs a regional forum of hospital, Community Care Access Centre and Local Health Integration Network CEOs.
Education and Honours
MD, Queen's University
Orthopaedic Residency, Queen's University and Royal College of Physicians of Surgeons FRCSC certification
Hand and Microsurgery Fellowship, University of Alabama, Birmingham, Hand Fellowship Program
Hand and Trauma Fellowship, Sunnybrook Medical Center, University of Toronto.
Research
An internationally recognized leader in orthopaedics and trauma, Dr. Pichora is a pioneer in the use of motion analysis techniques for documenting patterns of disease in upper extremities. He co-pioneered the world's first computer-assisted distal radius osteotomy. He has received numerous research grants including Canada Foundation for Innovation (CFI) and matching Ministry of Research and Innovation (MRI), and CIHR/NSERC - Collaborative Health Research Projects (CHRP) grants in the field of computer navigated orthopaedic surgery. He was named the Paul B. Helliwell Chair in Orthopaedic Research in 2015.