Standing tall at the Transitional Care Unit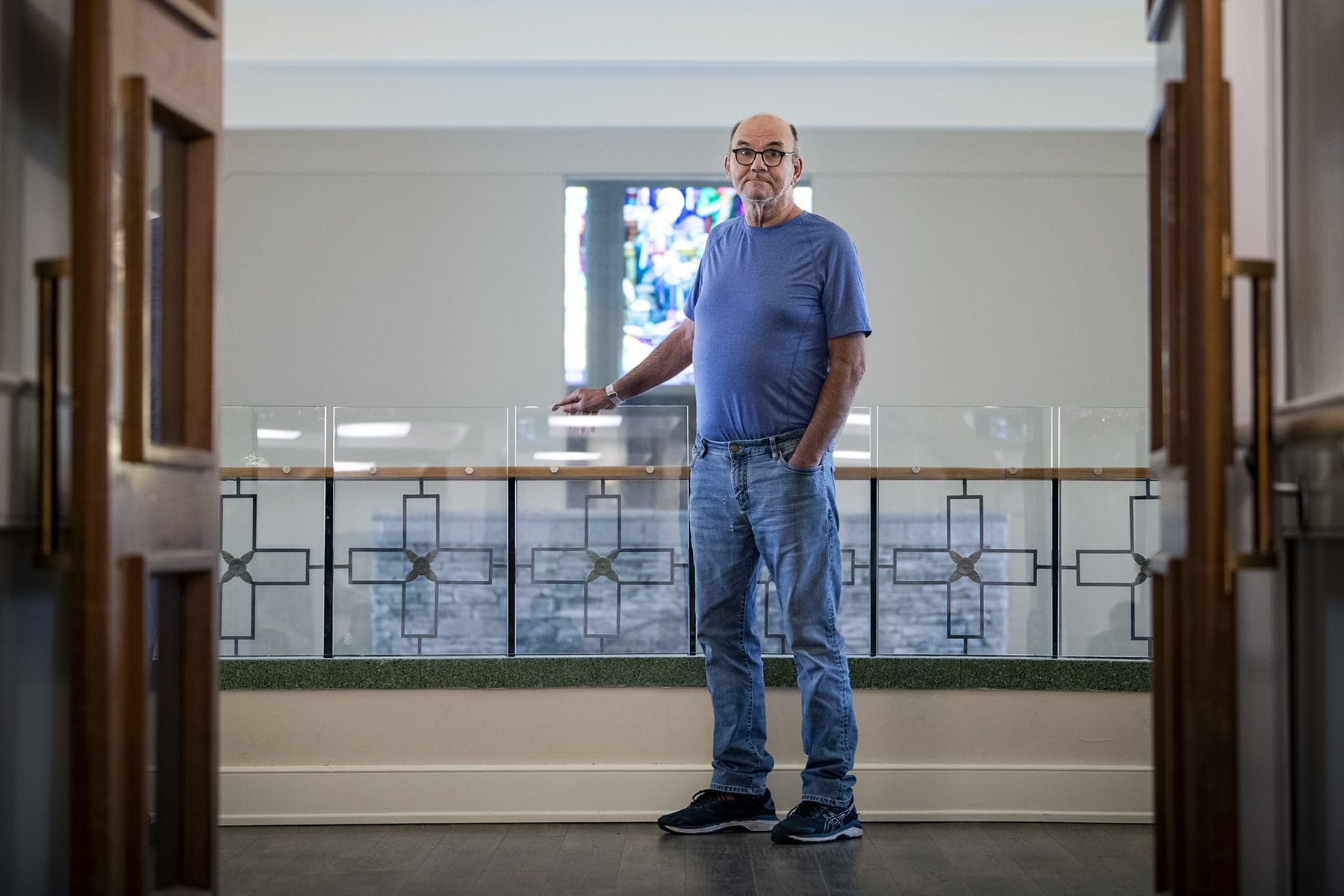 Credit
Matthew Manor/KHSC
Sloan's sister Cindy Esford says his recovery "has far exceeded what we expected" since being transferred to the Transitional Care Unit (TCU). Now with 22 more beds being added to the unit for a total of 102 beds, more people like Sloan will be able to transition out of the hospital to get the care they need before going home.
In February last year, 65-year-old Sloan was admitted to Kingston Health Science Centre's (KHSC) Kingston General Hospital (KGH) site with medication-induced Parkinson's-like symptoms. Rhythmic shaking had made it impossible for him to use the bank machine or his phone; he was having trouble feeding himself; and poor balance made him prone to falling. One such fall resulted in a compression fracture in his lower back.
After a change in medication, some rest and a referral made to long-term care, there wasn't much more the hospital could do for him; he instead needed an Alternate Level of Care (ALC). That's when Sloan and two of his four sisters, Esford and Susan Bedell, learned about KHSC's partnership with Bayshore HealthCare to provide restorative care in the TCU, which is located inside a local retirement home.
"It was a very difficult time: we were worried about David, we had never heard of the TCU and it was not an easy decision to have him moved there," says Esford, who is not only one of David's sisters but is also a retired nurse who used to work in the neonatal intensive care unit at the KGH site.
"The decision would have been much easier if I knew then what I know now. David has made incredible progress thanks to the unbelievable work of the Bayshore team. Going to this unit is the best thing that could have happened to him. I think it is one of the best things in health care right now." 
Dr. Tim Chaplin, medical director of KHSC's Emergency Medicine Program, agrees that the TCU does a fantastic job. "It meets patients where they are at, providing short- or medium-term support. We are not staffed or trained to provide that level of care in an emergency department or at an academic tertiary care hospital."
Watch Sloan share his experience at the TCU
"I really like it here."
Sloan says he is happy living at the TCU, gaining strength and waiting for a spot to open up at a long-term-care home.
"When you first go to a new place, you're not always going to be comfortable right away, but as time has gone on I realize that it is a good place to be.
"My mental health is better and my back is a lot better from doing daily physio (five days a week). When I first came here, I couldn't even tie my shoes. I can dress myself completely now and I couldn't do that before.
"I wholly endorse it, 100 per cent.
"I go out a couple of times a week with my sisters, the nurses help me with my medication, the food is good – especially the ribs, and you can walk outside on a paved path around the building. The social interaction is nice too. I enjoy what we call the professional bingo league on Tuesdays and Fridays.
"It's a good atmosphere and we have fun.
"Also, there aren't as many sick people here as there are in the hospital. People here are close to going home.
"You can't stay here forever but the time that you are here will be very good. I think just about anybody could be happy here."
70,000 bed days saved
Since the TCU opened in the fall of 2017 with just 10 beds, it has freed up more than 70,000 days of hospital bed use. This creates space at KHSC's hospital sites to care for the sickest patients in the southeast region.
The number of ALC patients remaining in the hospital when they no longer need the complex care it provides has also improved, showing that the model can help the hospital capacity pressures being felt across Ontario.
"Before people were able to transition to the TCU, the percentage of hospital beds occupied by ALC patients was around 20 to 30 per cent," says Tom Hart, executive director of Patient Care at KHSC. "Recently, that decreased to about 13 to 15 per cent."
With the ongoing increased demand for hospital services, there is always more that can be done.
"One of our major challenges right now in emergency medicine is physical space," says Dr. Chaplin. "We have around 38 stretcher spaces, but on most days up to 35 or more of those are taken up by patients who are admitted to hospital and just have now where to go – the hospital is full."
"Programs like the TCU and KHSC @ Home are hugely helpful to the emergency department simply because they create capacity, allowing appropriate patients to recover in an environment that is set up to support them," added Dr. Chaplin.
Dan Hogan, KHSC's director of Patient Transitions and Clinical Resources, believes that without programs like the TCU, people would stay in hospital longer than they need to, potentially deteriorating and requiring longer-term care.
"The people who receive care at the TCU have good outcomes," says Hogan. "They are more than 50 per cent less likely to be readmitted to hospital within 30 days of leaving the hospital, compared to all other discharged inpatients."
The average stays in the TCU for those needing restorative therapies and awaiting long-term care – around 39 and 182 days respectively – give people the care and support they need to enter a rehab facility or return to a home environment with the best quality of life possible.