KGH Auxiliary launches 2023 Teddy Bear campaign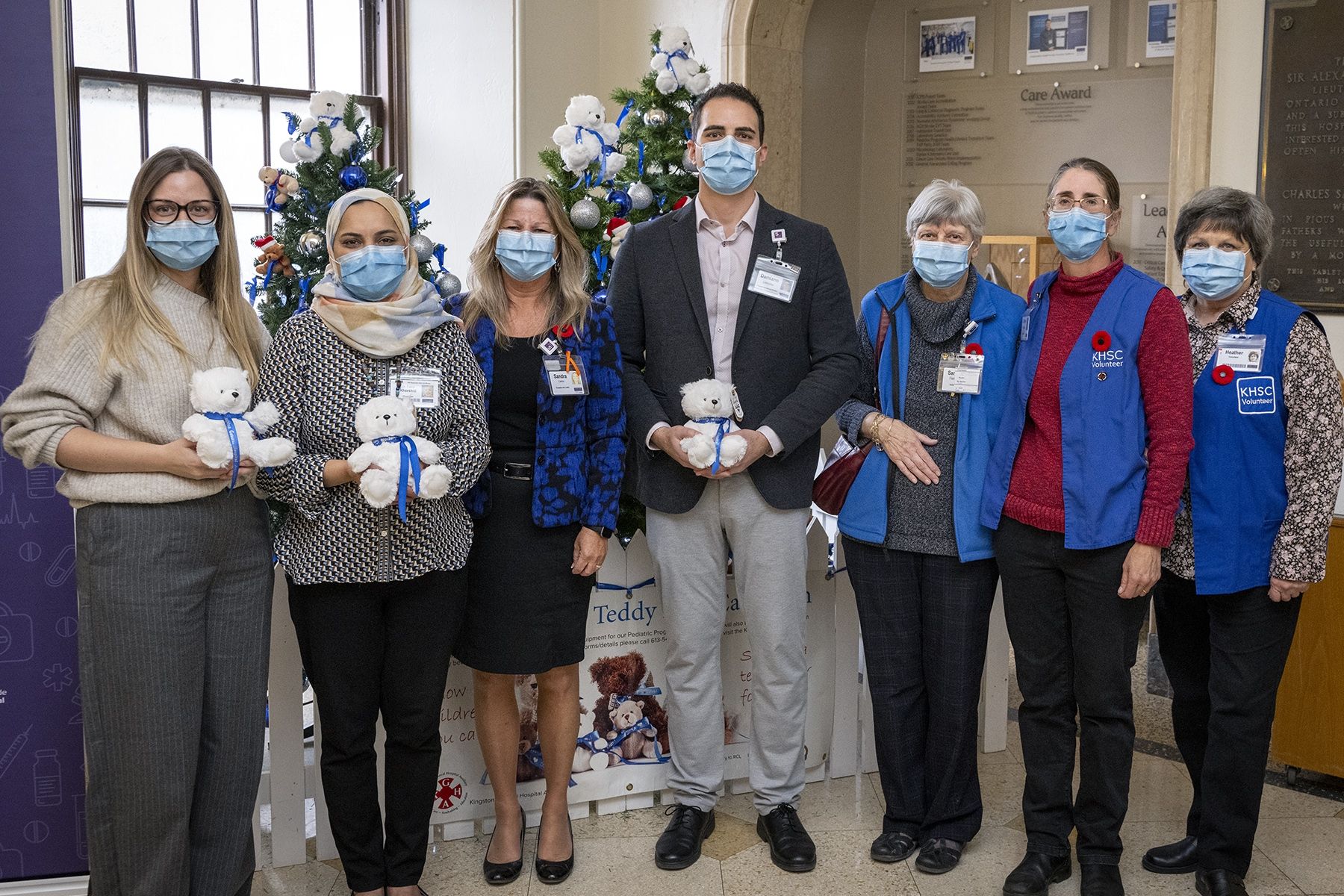 The Kingston General Hospital (KGH) Auxiliary has launched its 2023 "Show Children You Care" Teddy Bear campaign to help purchase patient care equipment for the pediatric program at Kingston Health Sciences Centre (KHSC).
The 20th annual campaign runs until Dec. 23 and aims to raise $25,000 through the sponsorship of teddy bears, each for a donation of $100. Over the past 19 campaigns the KGH Auxiliary has raised more than $480,000 which has enabled KHSC to purchase a variety of new, specialized equipment at the KGH site that serve the hospital's youngest patients and their families.
"At the end of the campaign, 300 bears will be delivered to young patients," says Chelsea Reynolds, KGH Auxiliary President. "We know how much children love to receive a fuzzy friend and our sponsors have the satisfaction of knowing they're making much-needed medical equipment available to children. Sponsoring a teddy bear for $100 is an expression of caring from people in our community. Caring creates a work of heart!"
This year the Teddy Bear campaign is targeting the purchase of equipment called End Tidal CO2 Monitors. 
"These are highly specialized monitors for measuring carbon dioxide levels in a child's breath, which ensures the care team can more quickly detect breathing or ventilation problems and make rapid adjustments to improve respiration and gas exchange in the pediatric critical care unit," says Dr. Faiza Khurshid. "This is especially critical in caring for children who may not be breathing adequately because they have been sedated or given pain medication. These monitors are vital for patient care in the critical care unit. Thank you for supporting the purchase of them and for helping us to provide safe, high-quality care for our smallest patients."
The Legion Branch 560 is once again supporting the campaign, providing seed money for the sixth year, in partnership with 'Young at Heart Seniors' donating $4,500 to the campaign.
"Legion members, volunteers, and auxiliary members are working hard to raise money for community projects such as this teddy bear project," said Allan Jones, Legion Branch 560 Past President. "I'm sure we all wish that there was no need for pediatric wards. But the reality is that children get sick. It must be terrifying when a parent is told that their child must be admitted to a hospital. They must rely on strangers to make their child well. My wife and I know the agony of losing a child. Our oldest son died during an asthma attack. If he had been able to reach a hospital, he may have survived. That is why I consider the wonderful doctors and nurses who provide loving care and send sick children home healthy nothing less than angels. The equipment that the campaign purchases every year for the pediatric wards ensures that the doctors can provide state-of-the-art care to our most valuable family members."
Donors have several contact-free options to sponsor a bear this year:
Phone:

  Call the KGH Auxiliary office at 613-549-6666 extension 6352.

Mail:

  Visit the volunteer section KHSC website to obtain a sponsorship form with instructions for mailing in your contact information plus cheque or credit card details.

Online:

  Donate through Canada Helps at

https://www.canadahelps.org/en/charities/kingston-general-hospital-auxiliary/

. Choose "Teddy Bear Campaign" under "Apply your donation to a fund set up by this charity."
Sponsors receive a charitable receipt upon request. Once again, this year the KGH Auxiliary is grateful for the support of the Royal Canadian Legion Branch 560 and their Ladies Auxiliary.