KHSC to acquire southeastern Ontario's first PET-CT scanner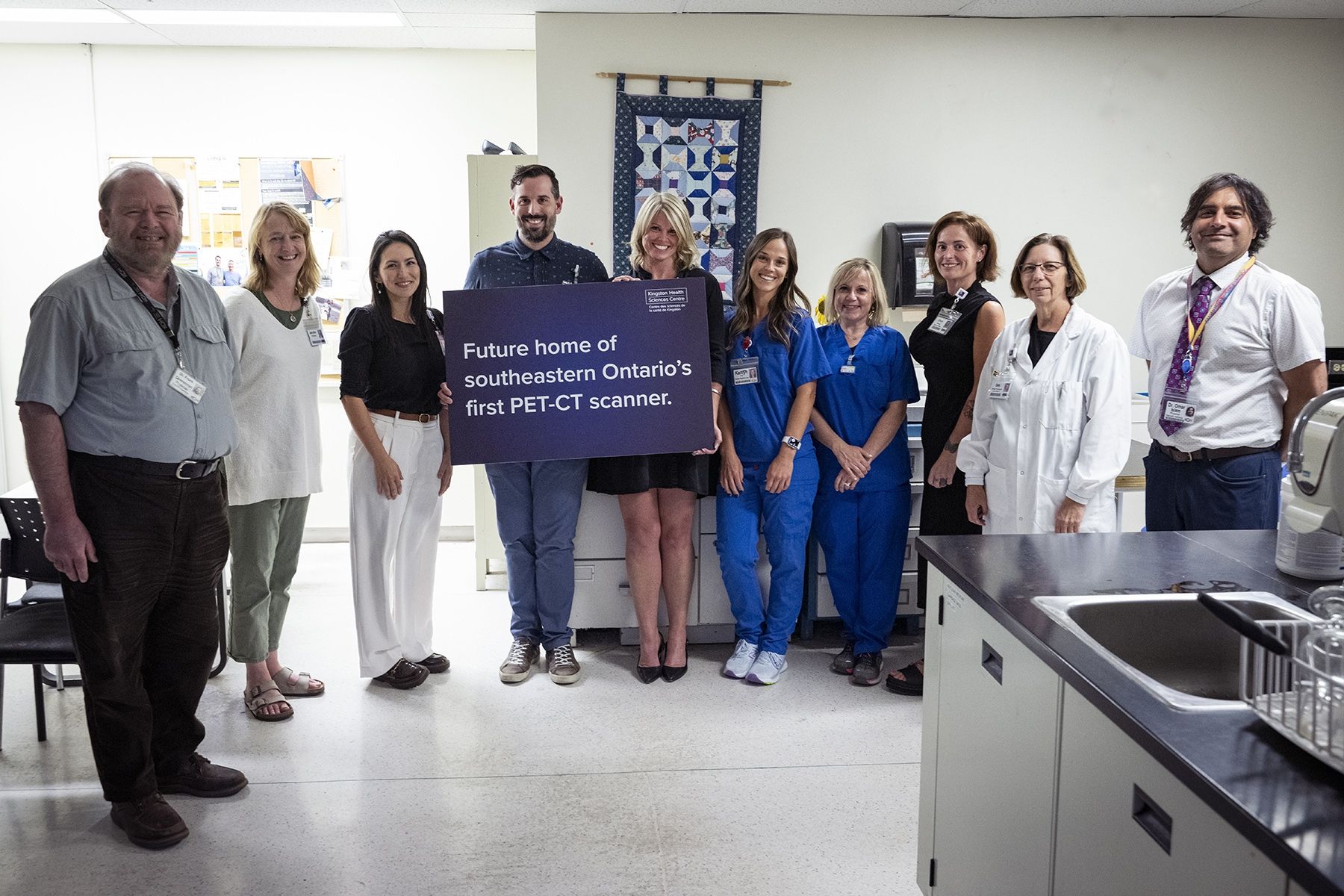 Patients in southeastern Ontario will soon have improved access to state-of-the-art imaging technology as construction begins later this month to build a home for a positron emission tomography (PET-CT) scanner at Kingston Health Sciences Centre (KHSC).
The scanner, which will be located at the Kingston General Hospital (KGH) site, will provide advanced imaging for both adults and pediatric patients. PET-CT is extremely sensitive and effective for non-invasive detection, diagnosis and for monitoring cancer treatment. It also has applications for cardiac and neurological diseases. The scanner will become one of just a handful in use in Ontario and the first to be located between Toronto and Ottawa.
"Currently patients have to travel to a larger city to access this level of imaging technology, which not only is inconvenient, but difficult for those facing a potential cancer diagnosis," says KHSC President and CEO, Dr. David Pichora. "We have been working for years to bring this technology to Kingston and the fact that we have achieved this goal is a testament to the vision and dedication of our health-care teams."
The PET-CT, which looks like an MRI machine, uses small amounts of radioactive materials called radiotracers, a special camera, and a computer to look at organ and tissue function. By identifying changes at the cellular level, it may detect the onset of diseases much earlier than other types of tests, like an MRI or CT scan. It is also useful in monitoring a patient's response to medical treatment.
"This new device will meet a growing need in our region, and we anticipate we will be able to support approximately 1,000 patients in our first year," says Dr. Omar Islam, head of Radiology at KHSC. "PET-CT is a rapidly expanding field. Partnering with GE HealthCare to bring this technology to KHSC, we are thrilled to provide a new service that will have a significant positive impact on patient care in our region."
To support the arrival of PET-CT services, KHSC has also recruited southeastern Ontario's first Molecular Imaging Radiologist. Dr. Roshini Kulanthaivelu studied at King's College in the United Kingdom and most recently completed fellowship training in PET-CT at the University of Toronto. KHSC is also in the process of recruiting a PET-CT Lead Technologist to oversee the implementation of this new service.
The total cost for the purchase of the scanner and construction will be approximately $10 million. It is anticipated that the scanner will be fully functional by early 2025
"I want to acknowledge that this project simply wouldn't have been possible without the support of local donors, particularly Brit Smith and Homestead Land Holdings, as well as the numerous individuals who have made unrestricted donations allowing us the flexibility to meet this need," says Dr. Pichora. "I would also like to recognize Ontario Health and the provincial government for providing operational funding for this service. This support is indicative of the growing role that KHSC is playing in Ontario."
Individuals who would like to support this project, or others at Kingston Health Sciences Centre, can make a donation through the University Hospitals Kingston Foundation at www.uhkf.ca/donate