KHSC wins first ever Vision Loss Rehabilitation Canada Distinguished Community Partner Award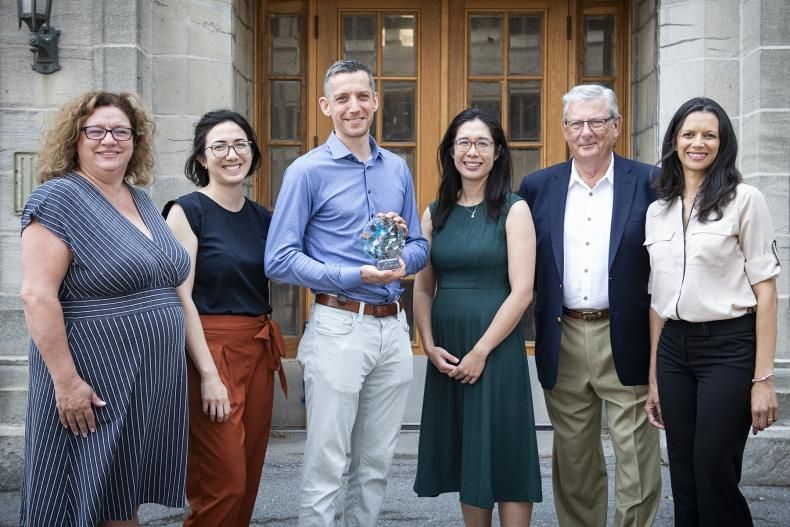 Kingston Health Sciences Centre's (KHSC) Ophthalmology Department is the first in the country to be honored with the prestigious Vision Loss Rehabilitation Canada (VLRC) Distinguished Community Partner Award. The award was presented to the KHSC team by VLRC President and CEO, Jennifer Urosevic and VLRC Board Chair John Magill during a visit to Kingston on Monday.
The award recognizes KHSC for its outstanding contributions in expanding access to integrated vision loss rehabilitation. Working together, VLRC and community partners like KHSC, enable blind or partially sighted Canadians to live the lives they choose.
"As our first-ever winner, KHSC is an exceptional community partner," says Urosevic. "They truly demonstrate what it means to provide strong support for all people with vision loss. KHSC consistently goes above and beyond to serve the best interests of our clients."
The award recognizes work done by KHSC and Queen's department members across various initiatives, including the South East Ontario Vision Rehabilitation Service (SOVRS), the Diabetic Retinopathy Screening Program, ongoing research into barriers to pediatric low vision/vision loss, and leadership on the Medical Advisory Board of the Eye Van, which offers services to those in remote communities in northern Ontario.
VLRC is a national organization that offers a wide range of rehabilitation services, including orientation and mobility training, essential skills for daily living, and services such as low vision, assistive technology, early intervention, and system navigation. Their rehabilitation team addresses the needs of individuals with various types of vision loss, equipping clients with the necessary skills they need to live independently and safely.
Beyond this, VLRC collaborates with eye care providers like KHSC to support early identification of eye disease and vision loss.
"There are many gaps in the health care system, and many different groups are trying to tackle these issues, however it's only by working together, through partnerships like the one that we can improve the system for our clients," says occupational therapist Julia Foster, who works in KHSC's Vision Rehabilitation Clinic. "While we've come a long way, there's still a long way to go. Working together helps us look for new ways to connect people with treatment, new technologies and skills, and most importantly, offer hope." 
If you or someone you know has an eye disease, or brain condition that affects vision, and is starting to struggle with reading, getting around the community, staying independent at home, or completing work, school, or other valued activities, request an eye doctor connect you using the SOVRS referral form or call 613-542-4975 extension 5069 to start the referral process yourself.
Gallery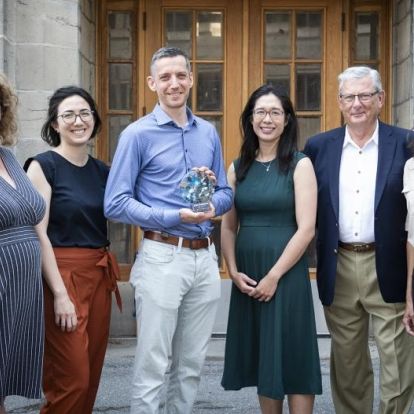 Representatives from VLRC present the KHSC ophthalmology team with the Distinguished Community Partner award.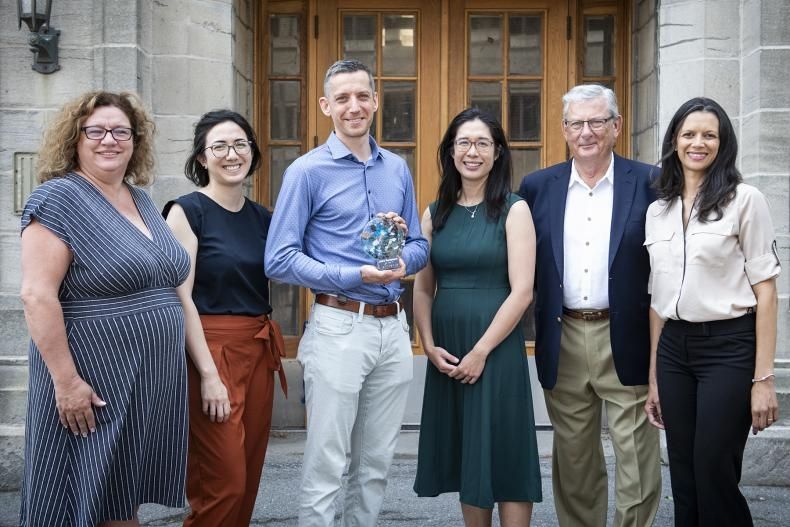 Representatives from VLRC present the KHSC ophthalmology team with the Distinguished Community Partner award.